To get around in Israel in a taxi, it's best to use Gett Taxi, which you can download on your phone as an app. It is cheaper than using a normal taxi. Note that Uber is not commonly used around Israel due to security concerns.
For long distance trips, there are very comfortable buses or trains.
You can download Gett Taxi by clicking the icons below.


If you use FeelHome's personal Gett Taxi link below, you will get 20 NIS off your 5 next rides.
http://b.gett.com/iw?coupon=GTSOBZA
You can also use a special service called Hadar Taxi to return to the airport at a fixed and low price.


Moovit App – for buses and trains
Like anywhere unfamiliar, traveling in Israel using public transport can be confusing. But worry not — an app called Moovit provides accurate bus and train schedules, plus directions and routes to make your travel experience as smooth and easy as possible.
To access the Moovit App directly, use the link below:


How to use the Bus in Israel
On buses, you must pay 5.90 NIS per ride as you board the bus, or provide the driver with your bus pass (called "Rav Kav") to the bus driver.
"Rav Kav" is a country-wide bus pass that you can get at the central bus station. You can also buy a one-time card directly from the bus driver with minimum 30 NIS. If you change buses within a city in a 30-minute time range, your second ride is free.
Buses in Tel Aviv do not run on Shabbat. Transportation services end on Friday mid-afternoon and resume on Saturday night (depending on the time of year and the start and end times of Shabbat). A "Sherut" (in Hebrew 'monit sherut') is a shared taxi, typically seating eight to ten people. The "Sherut" services operate on Shabbat.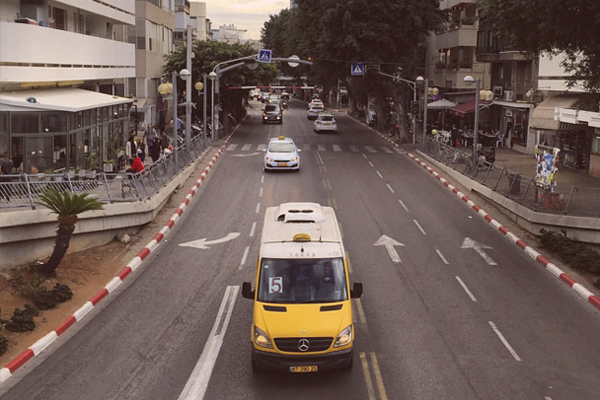 Bike rental
Tel Aviv has joined the revolution sweeping all the world's greatest cities – bike rentals! The Tel Aviv bicycle rental scheme is called Tel-O-Fun which is run by the city's municipality. Designed for residents, the bike scheme is great for tourists. You can pick up a bike from a point in one part of the city, and drop it off on the other side of town. The way it works is simple. Users sign up via Internet, toll-free phone number (*6070) or visiting City Hall.